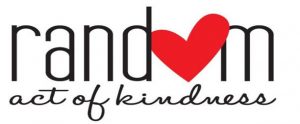 Saturday The 17th of February in 2018 is a date to be kind because it's Random Acts of Kindness Day. This is an unofficial holiday in the USA. It aims to encourage people for acts of goodness and kindness.
Kindness is being friendly and polite to others, doing something nice for them. Helping Hands encourages our community to take part in the Random Acts of Kindness Day by specifically choosing to show a random act of kindness to a Senior Citizen.
There are many ways to show kindness to a Senior, here are just a few ideas for you to consider:
Make a phone call or a visit to a senior citizen.
Offer to help them with their yard work.
Bring them Flowers or some other small gesture of appreciation…a card of appreciation is also very nice.
If possible pay for their grocery bill, their hair or nail appointment or take them out for a meal or to the movies.
Make a date with them for a game day.
Offer to take care of a "Honey Do" item at their home.
Offer to go for a walk with them or perhaps walk their pet for them.
Bring them a cake or a sweet treat of a fresh fruit platter.
Take them to a community event that they would enjoy.
No matter what you choose to do, you can make a difference in a Senior's life by showing them kindness on Random Act of Kindness Day!